Microsoft Copilot - what is it, how much does it cost and when will it be launched in Norway? Everything you need to know about copilot.
Microsoft 365 Copilot: Revolutionising how you work in the future
We attended the annual Microsoft Build 2023 trade show in Seattle in May where our consultants gained an even deeper insight into the technology-driven world and, not least, an exclusive sneak peek at the upcoming Copilot universe for Microsoft.
Microsoft have serious plans for AI support in their products. Generative AI is a game changer and will definitively affect our ability to do more with less.
Microsoft has always been known for delivering innovative solutions, and with Microsoft 365 Copilot, they take it a step further by introducing a more intelligent and collaborative work platform.
What is Microsoft 365 Copilot?
Microsoft's Copilot is an artificial intelligence-powered assistant built into the Microsoft 365 productivity suite. It acts as a "virtual colleague" who can help and support you in time-consuming daily tasks such as writing personal offer documents, making presentations or making summary meeting minutes.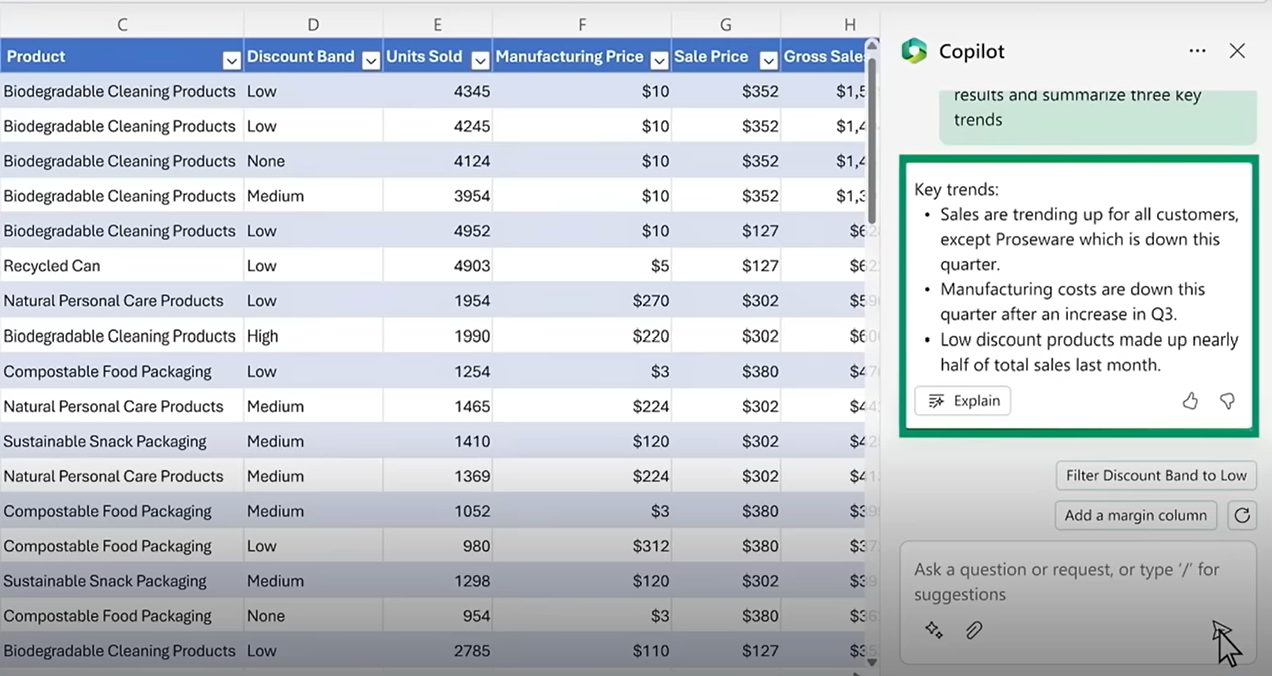 Copilot will be able to analyse huge data sheets in Excel and serve you valuable information quickly and simplistically. It should also be able to create visual graphs with a simple command or model variables. Source: Microsoft
How does Copilot work?
Copilot is available through various tools in the Microsoft 365 suite, including Office programs such as Word, Excel, PowerPoint and Outlook. It uses contextual intelligence to provide relevant suggestions and guidance and automate tasks in real time. 
The assistant is equipped with advanced machine learning and natural language processing, which enables it to understand the context and intent behind the user's actions and requests. In contrast to ChatGPT, the AI-powered Copilot must also process your existing data in the Microsoft environment (such as calendar, email, chats, documents, meetings, etc.) so that it is able to help you in a personal and relevant way.
Here are some examples:
Copilot for Outlook – finally tidy email
Following up on all the emails that flow into the inbox is a well-known problem, and Copilot intends to solve this problem intelligently and efficiently. "Catch up with Copilot" has the ingenious function of summarising boring emails and suggesting different responses: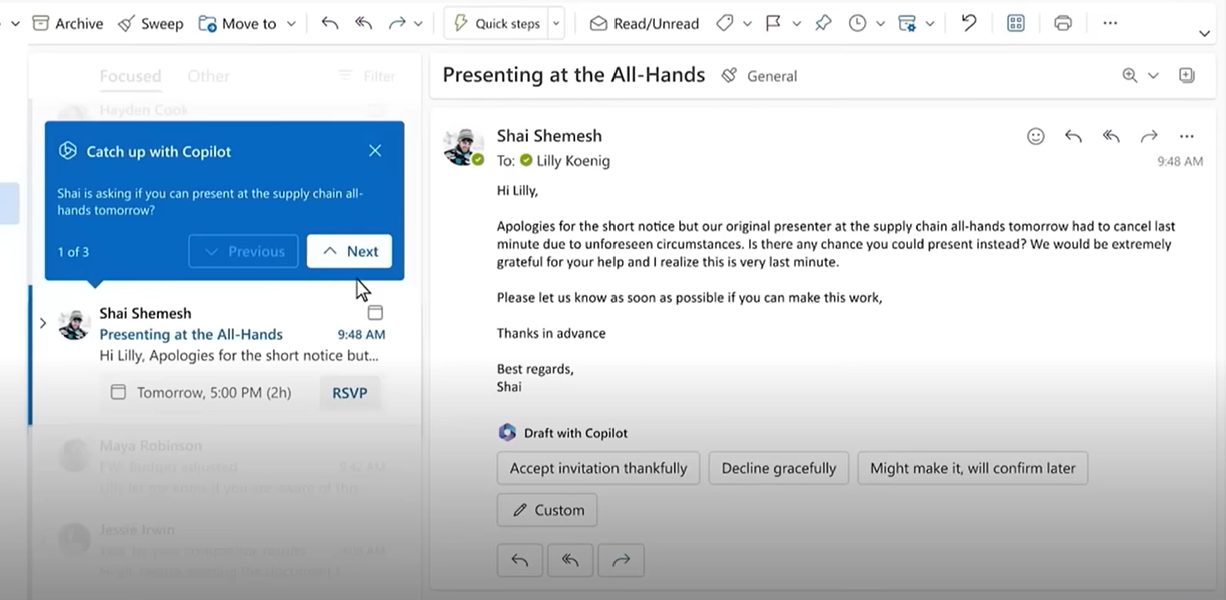 Draft with Copilot – faster and better responses
Another exciting feature is how Copilot is intended to draft in-depth and detailed emails, such as a price offer, based on your existing documents, such as yesterday's meeting notes, previous proposals or active price lists. It remains to be tested whether this works as well as Microsoft has envisioned, but if it does, it will free up sales associates for hours of work and maybe even close even more sales! That's something we can like.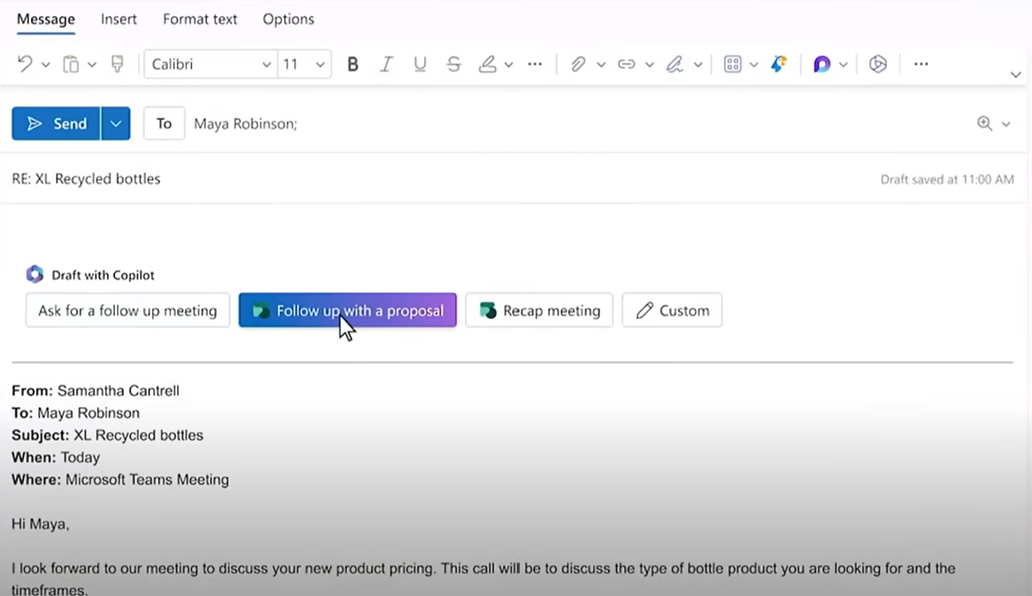 "Draft with Copilot" will provide intelligent and complementary answers to your emails. Screenshot: Lisa Crosbie
Microsoft 365 Copilot Chat
They recently introduced a new hero experience in Microsoft 365 Copilot: Microsoft 365 Chat. It's a powerful new capability in that goes far beyond simple questions and answers to tame the complexity, eliminate the drudgery, and reclaim time at work. See how it works in this video:
Copilot and security – Data is not shared outside the organisation
Copilot will only use your data in combination with the company's resources that are made available to your user. The data is not shared outside the organisation and does not train the model on a general basis.
This is how Copilot will revolutionise
the working methods of the future
According to McMaster University, there are 750 million users of Excel alone. In this way, Copilot for Microsoft 365 is a ground-breaking technological innovation with an insane potential to change the working methods of the future.
By combining artificial intelligence, machine learning and contextual understanding, Copilot enables millions of users to be more productive, collaborate better and explore their creative side. Microsoft has even gone so far as to claim that this will be the most powerful productivity tool on earth.
Microsoft 365 Copilot represents a significant change in the way we work with the potential to change our working life as we know it. Here are some of the ways Microsoft is changing the way the future works:
Increased productivity: Reduce the time and effort required to perform tasks by providing instant guidance and automation. This frees up more time for you to focus on core and strategic tasks.
Better collaboration:  Get help sharing and interacting with documents, scheduling meetings, and managing tasks more efficiently. It also allows collaboration in real-time with colleagues and sharing relevant content.
Personalisation: Copilot offers a personal experience by learning from the user's preferences, work style and previous actions. It can adapt to individual needs and provide more relevant and valuable suggestions over time.
More creativity: Get help to explore your creative potential by getting alternative ideas, design elements and formats. It can be an invaluable source of inspiration and support in producing high-quality work.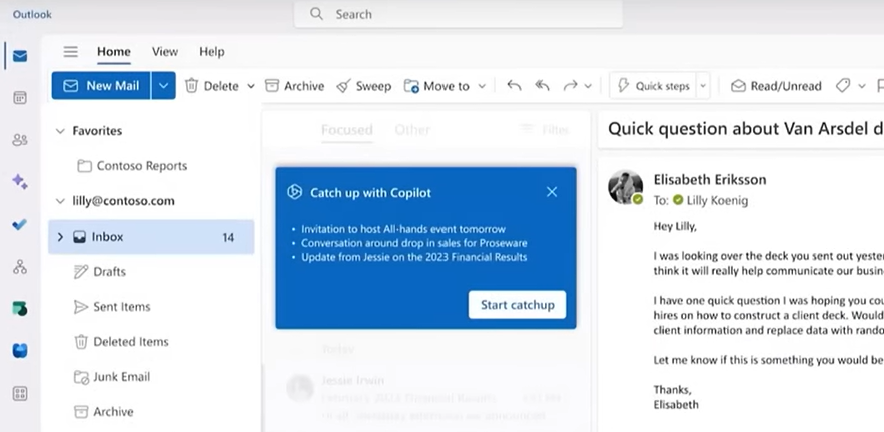 "Catch up with Copilot" will ensure you get the most important things in your inbox.
How much does Microsoft Copilot cost?
This summer, Executive Vice President Mehdi announced that Microsoft 365 Copilot will cost $30 per user monthly. This cost is on top of your existing Microsoft subscription. In addition, you might have to upgrade your subscription if you are not already on a Microsoft Enterprise license, either E3 or E5, Business Standard or Business Premium.
This means that it will be relatively expensive for larger companies, and you should carefully assess which tasks Copilot will be used for and which internal roles will benefit most from it. Arribatec can help you with the assessment.
When will Microsoft Copilot be available?
Copilot is currently only available to a handful of companies in a very limited beta version as part of Microsoft's "Early Access Program". However, Copilot will be available to everyone on an Enterprise agreement from November 1st, 2023.
Enterprise agreements are companies with +500 employees and is not the same as E3 and E5 licenses. Would you like to be notified when we know?
Sign up for the newsletter here.
Challenges with Copilot
There are several things about Copilot that mean it is not perfect right now.
Although you can type things in e.g. Norwegian, and get answers, everything goes through a translation. The generation for Microsoft only takes place in English, French, German and Spanish.
It is also not super easy to use the system. Microsoft 365 Copilot requires a good deal of training, and that the administrator makes certain adjustments. This concerns, among other things, control of own data, classification and access control to avoid privacy challenges.
The last con is the pricing. It will cost 30 euros per user per month, on top of the existing Microsoft subscription.
Prerequisites for using Copilot
There are several things you can do already now to prepare a rollout of Copilot, for example, preparing the company's database for searches and lookups. This includes setting up controllers that only make necessary policies and documents available. Information protection, data classifications and related policies are some aids to identify and limit access to confidential information for individual users.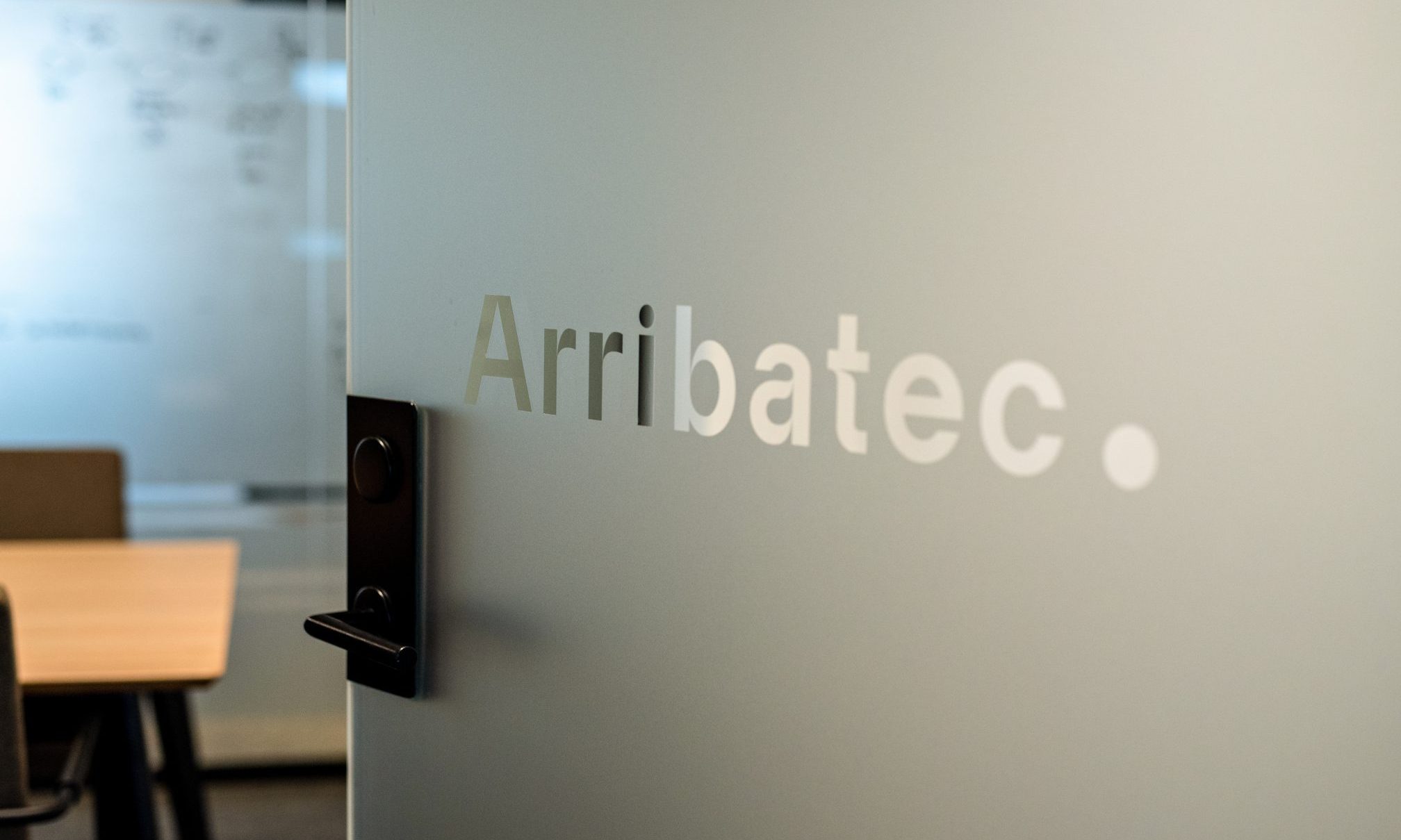 Putting key prerequisites in place and allocating the proper licenses are measures that can be taken now to ensure you are ready when Copilot is launched in Norway. A user needs, for example, an Enterprise license, a work account in Azure Active Directory, OneDrive, the latest Outlook app, etc., to get the whole Copilot experience. Arribatec can help with all of this; book a free consultation.
Your Microsoft partner
– we make sure that your company is on the journey
With Microsoft, your company can meet new challenges and opportunities faster. Arribatec is both a Microsoft partner and CSP tier 1, and we are fully invested in the working methods of the future. As we get new information, we will share our knowledge so that all customers have the opportunity to take part in the AI journey.
Get in touch here to schedule Copilot activation or learn how we can help you make the most of the Microsoft suite.