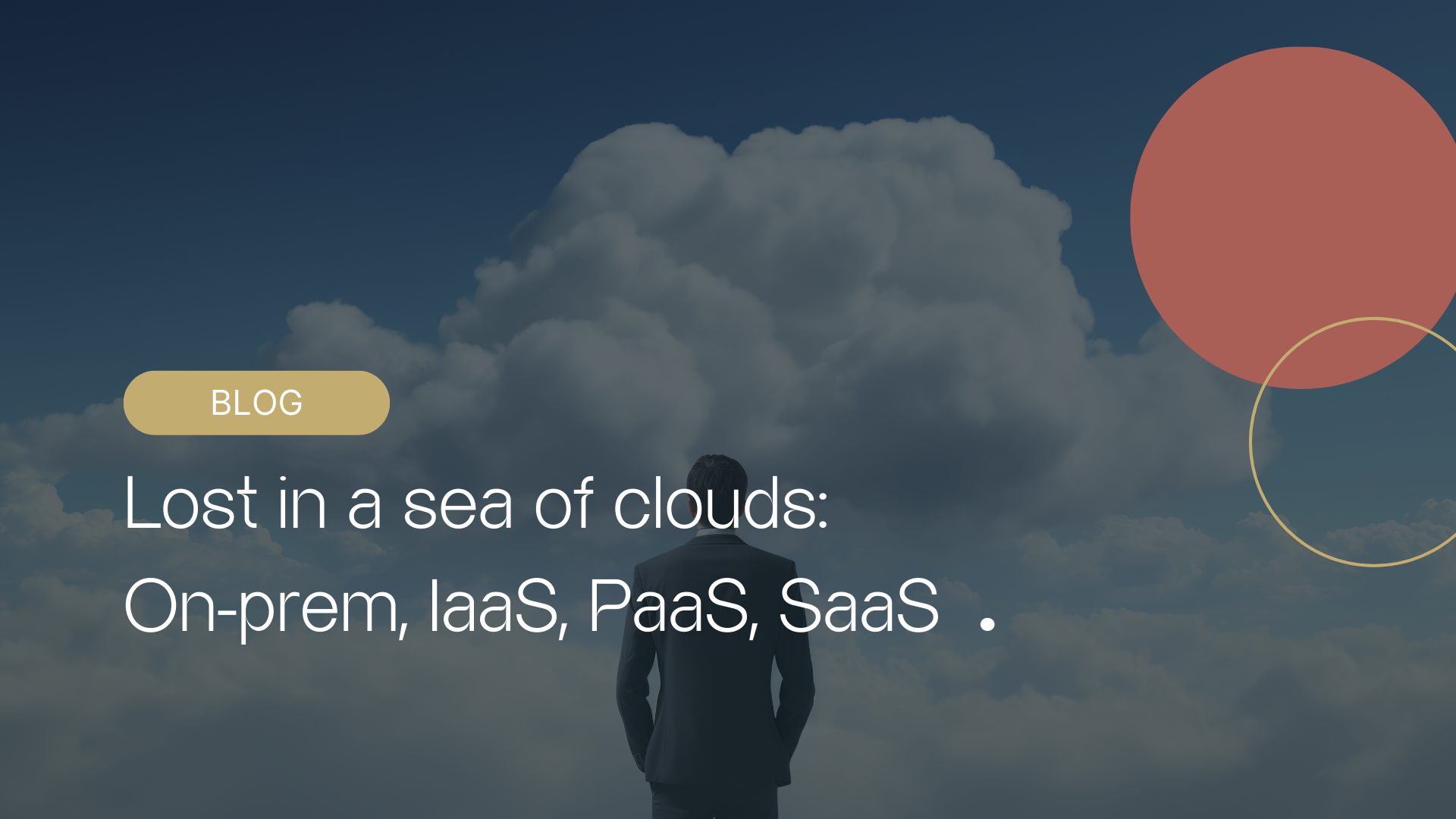 Many organisations still wonder what deployment model is best for their ERP solutions. We analyse on-prem, IaaS, PaaS and SaaS in this blog.
Lost in a sea of clouds: On-prem, IaaS, PaaS, SaaS.
What is best for your organisation?
Many organisations still wonder what deployment model is best for their Enterprise Resource Planning (ERP) solutions. On-prem or SaaS? or how about PaaS or IaaS? It always comes to the same; the best deployment model for your business is the one that meets your company's needs and requirements.
First, let's start defining what to expect from each model:
Traditional On-Premises: The conventional approach to deploying ERP software grants extensive control and flexibility through having your own servers on site. However, it tends to be costlier and more challenging to manage.
Infrastructure as a Service (IaaS): This model means leasing the physical servers from a third party but requires organisations to administrate their own platform and manage the ERP software independently.
Platform as a Service (PaaS): With this model, you gain access to a ready platform for developing and running your ERP software and you remain responsible for updating, tailoring and configuring the software yourself.
Software as a Service (SaaS): The most prevalent deployment model for ERP software, SaaS is cost-effective and straightforward to manage. However, the opportunity to tailor the application or infrastructure is removed.
The main differences between the models:
On-prem is mostly relevant for organisations with unique business processes and specific regulatory requirements. On-premises solutions allow for extensive customisation of the ERP system, data flow, network etc. On-premises ERP systems allow companies to manage their data internally, which can be perceived as more comfortable than relying on external providers. 
IaaS and PaaS can provide cost benefits compared to On-premises solutions. With IaaS, companies don't need to invest in and maintain their own physical servers, while PaaS removes the overhead of managing the entire infrastructure and platform. Both models allows you to virtually scale up and down the resources as you need. 
Migrating to a SaaS ERP might be complex or impractical due to dependencies on existing systems. Nevertheless, it is the most popular option, and we discuss it further own in this article. At Arribatec, we have experts in Cloud and ERP solutions; we work with complex clients that have special customisations or integrations and need tailored answers to their needs.
In summary, the difference between them lies in what you can or cannot control as a company. Control, customisation, development needs and resource management are high contenders to analyse when choosing one model or the other. In the graphic below, you can see specifically what is under your company's control on each model.
Why is SaaS the most popular for Cloud ERP?
Software as a Service has been the winning module in the last few years when looking at ERP implementations. This is because this model caters better to the specific needs of ERP software.
It offers rapid deployment and time-to-value: SaaS ERP solutions are pre-configured and ready to use, significantly reducing the time and effort required for deployment. This allows organisations to get up and running quickly, enabling them to get the benefits of the ERP system faster and accelerating the time-to-value.
This model is more cost-efficient: with Software as a Service ERP, organisations can avoid the upfront costs associated with hardware procurement, software licensing, and IT infrastructure setup. Instead, they pay a predictable subscription fee, making budgeting and managing expenses easier.
The updates and maintenance are done automatically: SaaS Enterprise Resource Planning providers handle all software updates and maintenance tasks, ensuring the system is always up-to-date with the latest features, bug fixes, and security patches. This eliminates the need for IT teams to manage upgrades, freeing up their time for more strategic initiatives.
It secures accessibility and mobility: SaaS ERP solutions can be accessed via a web browser from any device with an internet connection. This level of accessibility enables employees to work remotely or on-the-go, promoting collaboration and enhancing productivity.
It is flexible and scalable: Software as a Service ERP solutions can quickly scale to accommodate business growth or changing requirements. Organisations can add or remove users and resources as needed, avoiding the need to over-provision hardware and software.
Security and compliance are at the heart of the model: Reputable SaaS ERP providers invest heavily in security, ensuring that data is protected with robust encryption, access controls, and security protocols. They often comply with industry-specific regulations and standards, providing peace of mind for organisations that handle sensitive data.
Access vendor's knowledge and support: Software as a Service ERP vendors are dedicated to supporting their customers and have specialised knowledge in managing ERP systems at scale. Companies can rely on their expertise for technical support, troubleshooting, and best practices.
Continuous Innovation: SaaS Enterprise Resource Planning providers continuously innovate and enhance their platforms, introducing new features and functionalities based on market trends and customer feedback. Users can benefit from these updates without any disruptions.
Improves user experience: SaaS ERP solutions often prioritise user experience, offering intuitive interfaces and user-friendly features. This leads to quicker user adoption and increased efficiency across the organisation.
It offers redundancy and disaster recovery: Software as a Service Enterprise Resource Planning providers typically have redundant data centres and robust disaster recovery mechanisms, ensuring data availability and business continuity even in the event of a failure.
Extra considerations for Cloud models
Finally, when choosing between on-prem, IaaS, PaaS or SaaS, it is good not to forget the below considerations:
Scalability: Opting for a deployment model that can seamlessly accommodate rapid business growth is crucial. Cloud-based solutions usually offer greater scalability than on-premises ones, making them more adaptable to your expanding needs.
Integration: Selecting a deployment model that supports easy integration is paramount for seamless integration of your ERP system with other essential systems. Cloud-based solutions are generally more compatible with various systems, simplifying the integration process compared to on-premises solutions.
Support: If you require reliable assistance with installation, configuration, or maintenance, prioritising a deployment model with robust support is key. Cloud-based solutions typically provide better support services than on-premises solutions, ensuring you can access assistance whenever needed.
At Arribatec, we are experts in implementing ERP cloud solutions. We have a proven track record of helping businesses of all sizes achieve their goals with cloud-based ERP. We can help you choose the right solution for your needs and implement it successfully. We also offer various ERP services, including customisation, integration, and support.